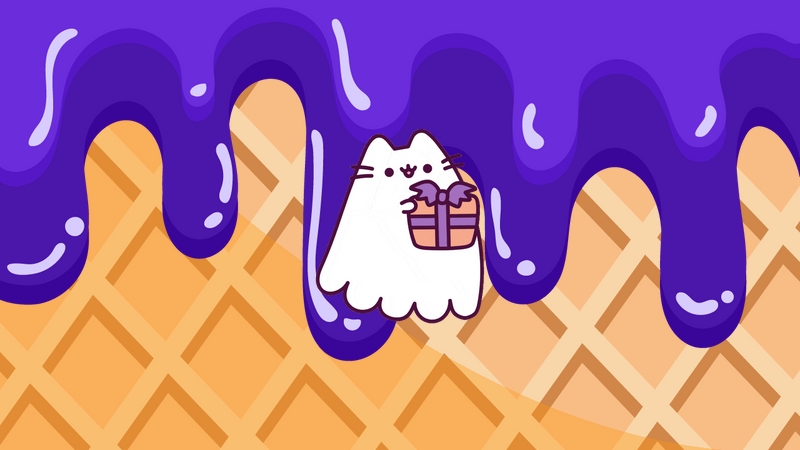 Pusheen Collection
Pusheen is an animated webcomic that shows the life and dreams of a gray tabby cat Pusheen. She was created by artists Claire Belton and Andrew Duff as a character in their webcomic Everyday Cute. Most of the original comics were lost but some of them survived as posts on Facebook and Twitter. The character Pusheen is based on Belton's childhood gray and tabby cat. And her name comes from Irush puisin - kitten, that was givven to her when she was adopted from the shelter.
Pusheen has become well known for appearing in stiker sets on Fasebook. and now she is an example of the popularity of cats on the Internet. She currnetly has 8 and a half million of followers on Facebook alone, and has accounts on Instagram, Pinterest, Twitter and etc. And seeing that popularity Pusheen company has starter releasing GIFs on its website several times a month.
Gifs on her Facebook show Puseen the Cat dressed as different kinds of desserts, Pusheen eating her favoirite foods like pizza and donuts. In our fanart Pusheen collection you can find Pusheen and her friends as progress bars for YouTube like, Pusheen on ballons, Dragonsheen progress bar, Donut Puseen progress bar, Stormy and Pip progress bar, and many more.
Pusheen is easily the most charming of all Internet cats! And now this can is in our fanart Pusheen progress bars for YouTube collection.
You still do not have Custom Progress bar for Youtube?
Install it from the official Chrome Web Store